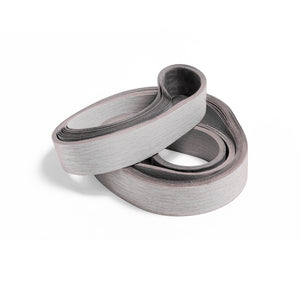 VSM STEARATE Plus XK733X Ceramic Belts
Please Contact Us for pricing and availability of this item.
---
---
STEARATE Plus XK733X Ceramic Belts


Specifically developed for the requirements of grinding non-ferrous metals
Non-ferrous metals such as aluminum, bronze, and copper are demanding materials that tend to clog the abrasive, so that built-up edges are formed. This means that chips are no longer removed. They cake on to the grain tips. As a consequence, the grain is unable to cut and the abrasive becomes unusable.

Available in 036, 040, 060, and 080 grits.
Contact Us to consult on your application or for pricing.
Benefits
Self-sharpening effect results in an extremely high removal rate thanks to the constant recreation of sharp grain points

The STEARATE Plus additional layer considerably reduces chip adhesion and therefore the clogging of abrasive
Reduced adhesive swarf extends the service life, resulting in fewer tool changes and therefore increased productivity
High wear resistance
Materials
Developed for:
Also suitable for:
Machines
Suitable for:
Downloads
Datasheet
STEARATE Plus Brochure
Video
---
We Also Recommend