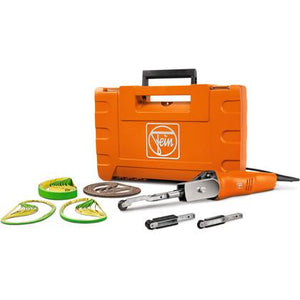 FEIN BF10-280E Belt File Set 120V
72280551090
Please Contact Us for pricing and availability of this item.
---
---
FEIN BF 10-280E BELT FILE SET
Smooth edges and corners, deburr sheet metal, and level weld seams
The FEIN BF 10-280E is a high performance, multi-purpose belt file for professional surface processing. A versatile, durable tool featuring low weight and outstanding handling. The most powerful belt file of its class on the market, featuring perfect belt tracking even with narrow belts.
Outstanding removal rate
Ideal for small spaces
Maximum plunge depth into workpiece
No thrown grinding belts
Lightweight and easy handling
Perfect results at corners, edges, and profiles
Perfect for already-installed assemblies such as railings
Set Includes
BF 10-280E Belt File tool
Carrying case
(3) grinding arms (1 of each type)
(10) abrasive belts 3/32" (3mm) grit 120
(10) abrasive belts 1/4" (6mm) grit 120
(10) abrasive belts 3/4" (20mm) grit 120
(5) fleece belts 1/4" (6mm) medium
Accessories
* Bolded items are included in set.
Accessories
Order #
Description
Size in.
Size mm
Grit
Pack
63810026010
Grinding arm - Offset
3/32 / 1/4
3 / 6 mm
1
63810027010
Grinding arm - Straight
3/32 / 1/4
3 / 6 mm
1
63810030010
Grinding arm - Straight
3/4
20
1
63714061010
Ceramic grinding belts
3/32 x 20-1/2
3 x 520
80
10
63714062010
3/32 x 20-1/2
3 x 520
120
10
63714063010
3/32 x 20-1/2
3 x 520
180
10
63714068010
1/4 x 20-1/2
6 x 520
80
10
63714069010
1/4 x 20-1/2
6 x 520
120
10
63714070010
1/4 x 20-1/2
6 x 520
180
10
63714089010
3/4 x 20-1/2
20 x 520
80
10
63714090010
3/4 x 20-1/2
20 x 520
120
10
63714091010
3/4 x 20-1/2
20 x 520
180
10
63714114010
Fleece belts
1/4 x 20-1/2
6 x 520
Coarse
5
63714115010
1/4 x 20-1/2
6 x 520
Medium
5
63714116010
1/4 x 20-1/2
6 x 520
Fine
5
63714123010
3/4 x 20-1/2
20 x 520
Coarse
5
63714124010
3/4 x 20-1/2
20 x 520
Medium
5
63714125010
3/4 x 20-1/2
20 x 520
Fine
5
63726016010
Super polishing belts
1/4 x 20-1/2
6 x 520
3
63726019010
3/4 x 20-1/2
20 x 520
3
63726008012
Pre-polishing paste
Red, 6.7 fl.oz. (200 ml)
1
63726009016
Polishing paste
White, 6.7 fl.oz. (200 ml)
1
Technical Specifications
| Model | BF 10-280E |
| --- | --- |
| Power input | 800 W |
| Speed RPM | 10,000 - 28,000 |
| Belt speed | 39 - 105 ft/s |
| Weight (EPTA) | 4.6 lbs (2.1 kg) |
| Cable | 13 ft. (4 m) |
| Plunge depth | 6-1/2 in. (165mm) |
Video
---
We Also Recommend